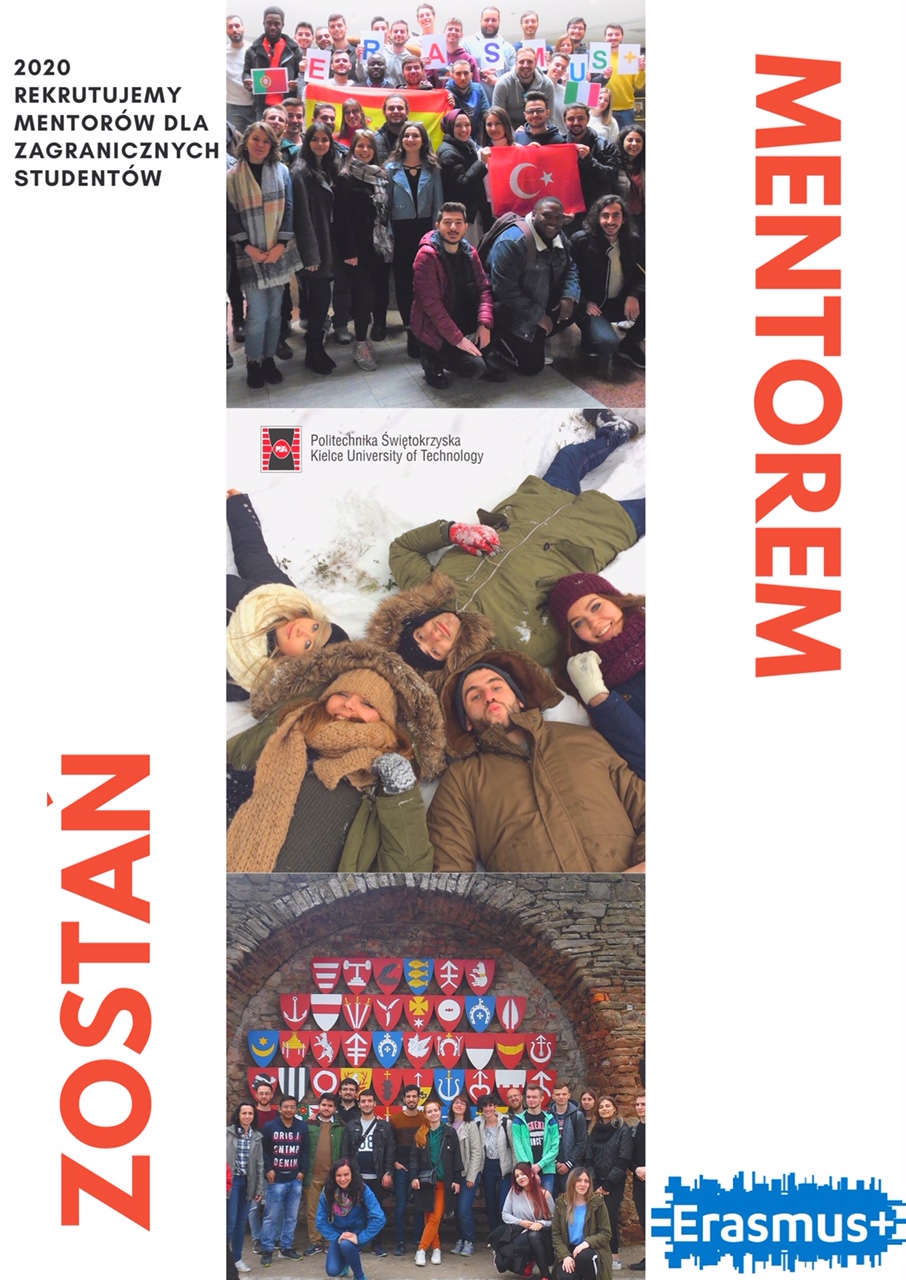 Zostań Mentorem!
Erasmus + w Kielcach Mentorzy poszukiwani. Pomożecie?
Do 1 marca można zgłaszać się, żeby pomóc studentom z programu Erasmus + w odnalezieniu się w nowym miejscu. Bycie Mentorem to przede wszystkim wspaniała okazja na zawarcie międzynarodowych przyjaźni, możliwość zdobycia kumpla, którego zawsze możesz odwiedzić podczas wakacji, gwarancja wyjątkowych przeżyć i doskonałej zabawy!
Mentorzy to osoby, które lubią obracać się w wielokulturowym środowisku i są chętne do wyświadczania drobnych przysług, np. odebrania z dworca, pomocy przy zakwaterowaniu czy oprowadzenia po uczelni. Ważne jest także pokazanie kulturowej i rozrywkowej strony miasta.
Drogi Studencie jeśli chciałbyś:

• podszlifować znajomość języka obcego,
• zawrzeć międzynarodowe znajomości,
• poznać kulturę innego kraju,
• wyjechać na stypendium zagraniczne
Zainteresowane osoby bardzo prosimy o kontakt z Działem Rozwoju Kadry Naukowej i Współpracy Międzynarodowej pokój 4.09 C i 4.20 C! tel. +41 34 24 788 lub napisz erasmus@tu.kielce.pl lub mchlewicka@tu.kielce.pl

Liczymy na Wasze zgłoszenia, pomoc i zaangażowanie!
WSKAZÓWKI DLA MENTORÓW:

PRZED PRZYJAZDEM:
• skontaktuj się z przydzielonym Erasmusem,
• pozostań w kontakcie ze studentem, odpowiadaj na jego pytania dotyczące naszej Uczelni, zakwaterowanie i życia w Polsce,
• dowiedz się kiedy i jakim środkiem lokomocji przyjedzie twój podopieczny,
• poinformuj nas o terminie przyjazdu Erasmusa.

PRZYJAZD:
• jeśli możesz, odbierz studenta z dworca,
• zabierz go do akademika oraz pomóż mu w załatwieniu formalności związanych z zakwaterowaniem,
• pomóż w podłączeniu się do internetu,
• pokaż Erasmusowi nasz kampus, zabierz go na spacer po mieście oraz oprowadź go po Uczelni.

PIERWSZY TYDZIEŃ:
• skieruj Erasmusa do Uczelnianego Koordynatora Erasmus+, pok. 4.20 C.
• pokaż studentowi miasto, sklepy, banki, kluby itp.


Przypomnij mu aby zabrał ze sobą 1 zdjęcie legitymacyjne oraz paszport,
• wyjaśnij zasady korzystania z komunikacji miejskiej.

DODATKOWE INFORMACJE:

• jeśli nie możesz odebrać Erasmusa z dworca, poinformuj nas o tym.
• w razie jakichkolwiek problemów skontaktuj się z nami bądź koordynatorami programu Erasmus+