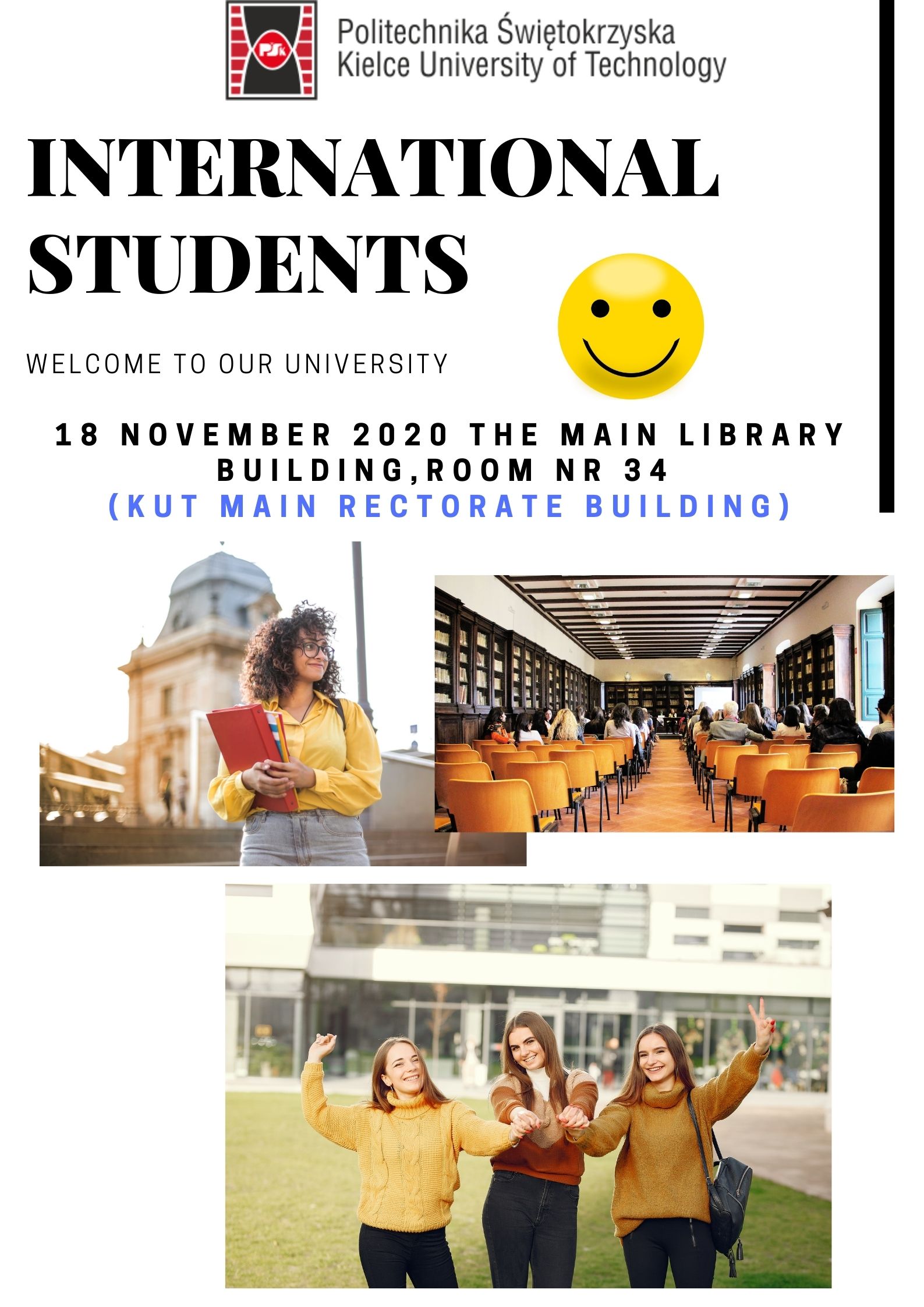 Welcome International Students!
Dear International Students,
We would like to invite you to Official welcome event/meeting with the International Office. Because of rules and restrictions due to Coronavirus the meeting will be short and students are invited in small groups, each one at a specific hour. (30 min for each group) Detailed information and direct invitation will be sent to each Student email address.
The meeting will be held with all the precautions and the guidance of social distancing and in accordance with the safety rules currently in force.
During our brief meeting on Welcome Day you will have opportunities:
to meet other students from around the world

hear more abou being a student at the Kielce University of Technology

information about the student services and support available on campus

activities to help you feel connected to your new University community

tips on how to prepare for your academic study.
And we will have little welcome surprise for you as well! 🙂

You are invited to a meeting at 11 o'clock, 18 th November (Wednesday)  Main Rectorate Buildng (Main Library Buidling) ROOM 34 Please ask the Reception on the GROUND FLOOR
Please join us! 18 th November Main Rectorate Buidling (Main Library Building) ROOM 34 Please ask the Reception on the GROUND FLOOR
Please wear mask. Hand disinfectants will be available before entering the room.
Please confirm your attendance! We would like to receive email with confirmation about your particpiation together with information about the time (example: Yes I will attend at 11.00 o'clock)

Stay tuned the entire time by liking our FB page https://www.facebook.com/pages/category/Exchange-Program/Erasmus-Kielce-University-of-Technology-1939867329607009/
You may have questions that are not answered at the links above. Please do contact our Team who will be delighted to help you.
We look forward to welcoming you to our University.
With warm wishes,
Department of Staff Development and International Relations