From Saturday (November 7th) the new regulations due to COVID-19 will be in power In Poland / Kolejne zasady bezpieczeństwa od 7 listopada
New Regulations by Polish Government are Announced Due To COVID-19
Prime Minister Mateusz Morawiecki and Minister of Health Adam Niedzielski presented new restrictions at a special conference.
Education
Distance learning for schools (all grades) is announced. The government is also adding a PLN 500 voucher for teachers to finance the most important equipment for remote work.
Community life
Theaters, cinemas, museums, art galleries, the houses of culture are going to be permanently closed
In churches, can be one person/15m2
Shops in shopping malls will be closed apart from pharmacies, grocery, and service shops
In stores with an area of less than 100 square meters, will be able to stay 1 person per 10 square meters, in larger stores – 1 person per 15 square meters
Hotels are going to serve only guests which arrived with a business reason
The regulations will be in power from Saturday (7th November)
Moreover the current security measures are extended until November 29th
in public transport there are half of the seats left vacant or 30% of all space available will be in use
pools, aqua parks and gyms are out of their services
restaurants are closed (take-away or delivery only)
ban on organizing meetings and events
Stay healthy and safe!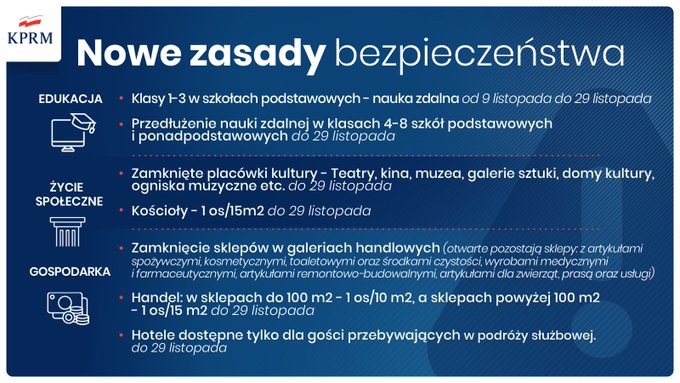 source: https://go-poland.pl/