Program im. Stanisława Ulama/The Ulam Programme 2020
Program im. Stanisława Ulama – program pozwala na przyjazdy do Polski zarówno uznanych, jak i obiecujących naukowców, posiadających co najmniej stopień naukowy doktora, którzy wzmocnią potencjał naukowy polskich jednostek i włączą się w prowadzone w nich aktywności naukowe, przede wszystkim projekty badawcze i dydaktykę. W ramach programu możliwe jest zaproszenie do polskich instytucji nauki i szkolnictwa wyższego naukowców reprezentujących wszystkie dziedziny nauki i pochodzących z różnych krajów na świecie. Uczelnie oraz instytuty naukowe oraz badawcze mogą zaprosić do Polski specjalistów z priorytetowych dla nich dziedzin, którzy w znaczący sposób rozwiną prowadzone przez daną instytucję badania naukowe, wzmocnią dydaktykę, czy też wesprą instytucję w przygotowywaniu aplikacji o prestiżowe granty.
Termin składania wniosków mija 15 kwietnia 2020.
Więcej informacji znajduje się pod linkiem https://nawa.gov.pl/naukowcy/program-im-ulama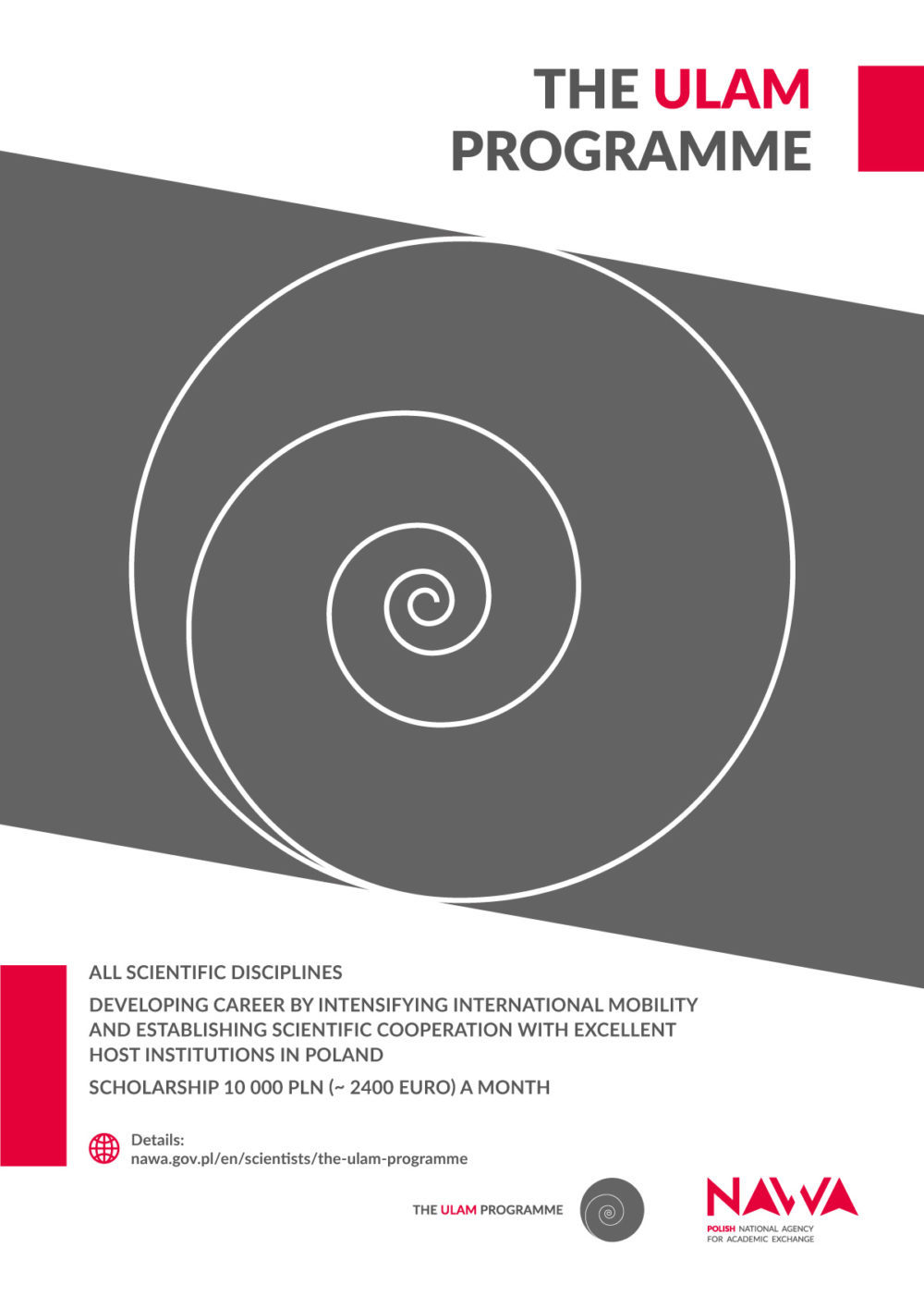 The Ulam Programme 2020, 15 January 2020 – 15 April 2020 – The Polish National Agency for Academic Exchange (NAWA) is pleased to announce the second edition of the programme for post-doctoral incoming researchers: The Ulam Programme. The objective of The Ulam Programme is to help foreign researchers to develop their careers by intensifying international mobility and to allow them to establish scientific cooperation with excellent host institutions in Poland. A proposal may be submitted only by a person who holds a doctoral degree. Activities to be carried out during the scholarship may include:  
conducting research and/or development work;
post-doctoral training;
obtaining materials for scientific work or publication;
conducting didactic classes at the host centre.
Visits within the Ulam Programme can last from 6 to 24 months. The Programme provides financing for a scholarship covering both the Beneficiary's allowance costs in relation to their stay at a host institution, in an amount of approx. 2400 EUR a month and a mobility allowance.
Learn more about the conditions for application, timing, etc. https://nawa.gov.pl/en/scientists/the-ulam-programme