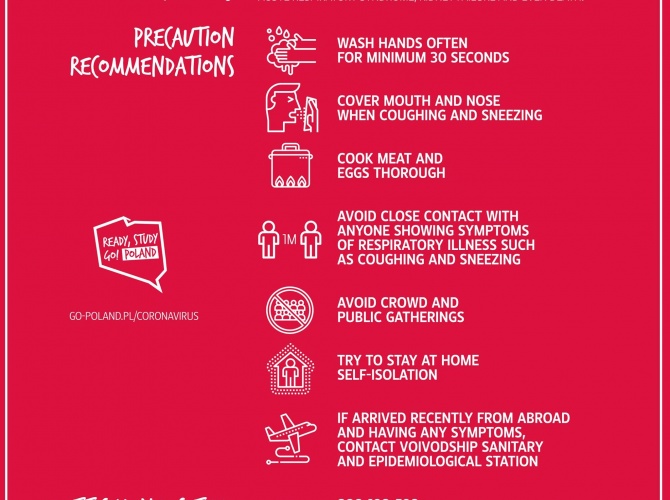 Coronavirus: temporary information and recommendations
Information that you can find below come from the official website of the Republic of Poland: https://www.gov.pl/web/coronavirus/temporary-limitations
1. REGIONALISATION – ADDITIONAL RESTRICTIONS IN DISTRICTS WITH THE LARGEST INCREASE OF INFECTIONS
What does it mean?
We are introducing new safety rules, however only in specific districts where the increase in the number of new infections is larger than in other areas of Poland.
Which districts does it cover?
IMPORTANT! The list of districts covered by the additional restrictions is subject to ongoing monitoring and updates.
AREAS: GREEN, YELLOW, RED
Districts covered by the additional restrictions are divided into two regions: yellow and red – with the varying scope of restrictions.
The districts included in the two areas are covered by additional restrictions, pertaining to, for instance: the obligation to wear face masks, organizing trade fairs and congresses, sports and cultural events, food service, rehabilitation centers, weddings, transport.
The details on the new rules applicable in these areas are available here.
Districts included in the green area adhere to the existing safety rules.
Valid from: 08 August 2020
2. MOVEMENT RESTRICTIONS
Important! 1,5 meters – minimum distance between pedestrians
We introduce an obligation to maintain at least a 1,5-meter distance between pedestrians.
Excluded from this requirement are:
parents with children requiring care (up to 13 years of age),
people living together or forming a joint household,
as well as people with disabilities, those who cannot move on their own, people with special education needs statement and their caregivers,
people who cover their mouth and nose.
Valid until: further notice.
3. COVERING MOUTH AND NOSE IN PUBLIC SPACES
The obligation entails: wearing masks or any other kind of garment covering the mouth and nose in situations, where it is impossible to keep a 1,5-metre distance from others.
How does it work? Covering your mouth and nose is obligatory in open spaces, when you cannot keep the distance of 1,5 metres away from others, as well as in a closed space – e.g. in shops or public transport.
Masks remain obligatory:
in buses, trams, and trains;
in passenger cars, when riding with somebody you don't live with on a daily basis;
in a store, bank, market, and post office;
in the cinema and theatre;
at the doctor's office, clinic, hospital, massage and tattoo parlors;
in church, at school, at the university;
in public buildings, including offices, in particular, while handling official matters;
Exceptions. Where don't you have to cover your mouth and nose?
in a restaurant or bar – when you take your place at the table and eat or drink
at work – if you do not have contact with outsiders (e.g. when serving clients and applicants)
in the forest
when eating meals or drinks after taking a seat on a train subject to mandatory seat reservation, including meals and drinks issued on board the train (WARS restaurant wagon)
Note: Covering your mouth and nose in public spaces is mandatory. Exemptions are provided for individuals who cannot cover their mouths or noses due to:
pervasive developmental disorders, mental disorders, moderate, severe or profound intellectual disabilities;
difficulties with covering or uncovering one's mouth or nose on their own.
Remains in force: indefinitely, until further notice.
4. PUBLIC TRANSIT
Restriction concerns: the use of public transit.
How does it work?  Public transit authorities are now allowed to increase the passenger limit in public transit vehicles. How many people can use a vehicle?
The given means of transport may not carry more than:
50% of the number of seats or 30% of the number of all seats and standing spaces, with at least half of the seats remaining unused.
100% of the number of seats or 50% of the number of all seats and standing spaces, with at least half of the seats remaining unused.
Remains in force: indefinitely, until further notice.
5. AIR TRAFFIC
Restriction concerns: international flights.
More information you can find following the link: https://www.gov.pl/web/coronavirus/temporary-limitations
source NAWA https://go-poland.pl/