It is with great sadness that we have to announce that Erasmus + International Staff Week 2020 at Kielce University of Technology have been postponed until further notice due to the ongoing COVID-19 pandemic. We have decided this in the best interest of participants, staff, students, partners  on the advice of the WHO and Government Authorities. We would like to thank all those who are interested in taking part and those involved in preparing Erasmus + International Staff Week 2020 at KUT for their work and commitment. Please stay posted (stay connected) for updates coming soon.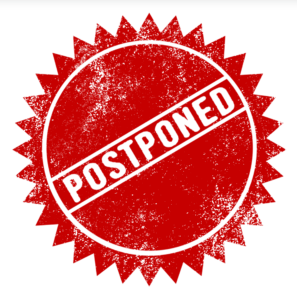 Are you interested in spending a short period of time teaching or training in Kielce, Poland? 
Following the success of previous events, we are delighted to announce that Kielce University of Technology will, again, be hosting an International Week for colleagues from partner institutions within the framework of Erasmus +.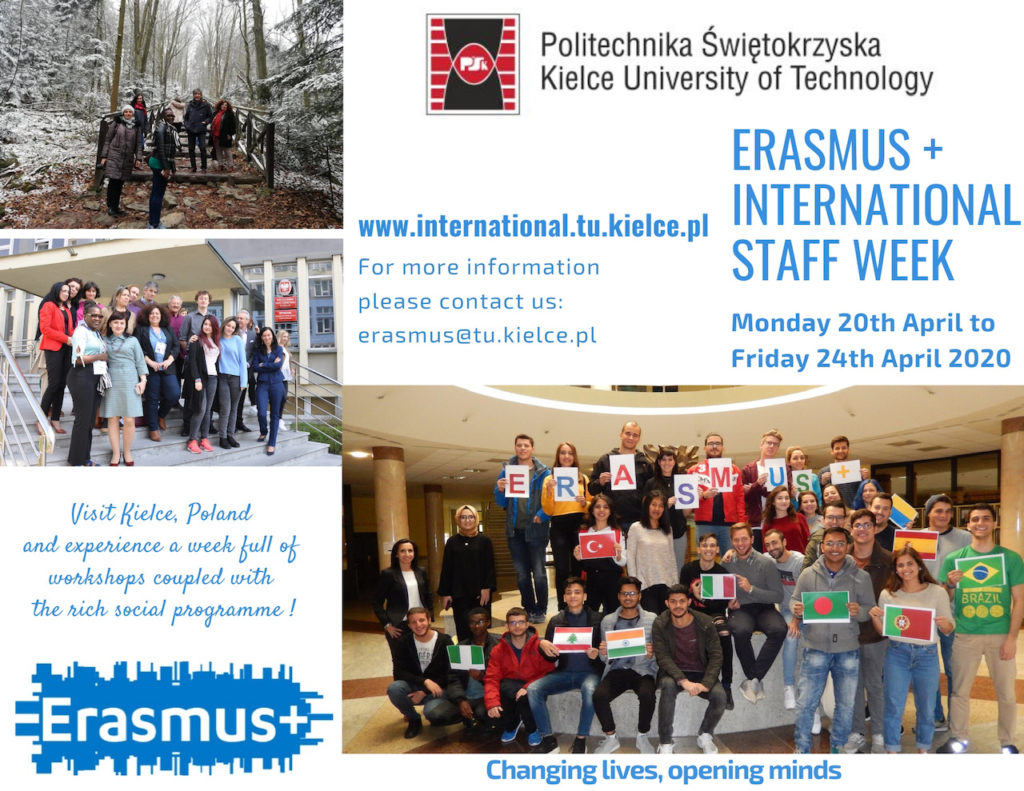 When?
The Programme * is  scheduled from Monday 20th April to Friday 24th April 2020 on our campus.  *(the Agenda may be subject to change)
What does Erasmus+ offer academic and non-academic staff?
The Erasmus + Mobility Staff Training Week aims to bring together staff from partner institutions in order to strengthen international networks, exchange good practice and develop personal and professional skills relating to cutting edge topics in student support.
Who should attend and what we will cover?
This year, KUT invite both academic and non-academic colleagues to the University and the programme is varied but focused mainly on two issues: Bridging the cross cultural gap with good communication skills and Integration in multicultural environment along with promotion International activities.
Each lecturer is invited to give guest lectures or seminars within the KUT Faculties areas of teaching.
Our aim is to help you enhance your cultural sensitivity and competence as well as gain better understanding of cultural challenges and encourage positive cross-cultural relationships. The other goal of the training week is to share our experience and know-how in managing Erasmus+ projects, outgoing and incoming mobilities included.  Participation will also provide an excellent opportunity to network, share best practices and success stories with other colleagues working in the international environment.
Why choose us?
Kielce University of Technology is the largest technical university in the region. We are modern, dynamically developing institution and here you can find out more about us  https://bit.ly/2QxNauu  During the week, we invite you to join us on a Kielce city tour and enjoy the many sights that the city offers. Please check out this promotional video  https://bit.ly/2T0796J  and get inspired!
We invite all participants for a Gala Dinner with the faculty authorities of the Erasmus+ International Week at Kielce University of Technology.
How to apply?
Colleagues who are interested in attending should complete the International Week Application Form 
General information:
COST: No participation fee. Organizator will provide the guests with coffee breaks and lunches, guided city tour, gala dinner, certificates.
However, the participants will be asked to finance their own travel, accommodation and other minor expenses through their Erasmus programme funds.
If you are looking for accommodation close to the KUT premises, we suggest you to check the following hotels:
address: Warszawska 19, 25-516 Kielce
Address: Składowa 2, 25-505 Kielce
However, there are some other good hotels or private apartments as well. Try to look through the pages of www. booking.com
The fastest way to get to Poland is by plane. We suggest to come to Warsaw or Cracow airport as our University is located in Kielce, the town in the south–eastern part of Poland, and it is about 180 km far from the capital of Poland – Warsaw, and about 120 km far from Cracow. To get to Kielce please choose either train or coach.
Kielce University of Technology is situated in the centre of the town, about 2 km from the Railway Station. There are very convenient and frequent bus connections to get you to the University (about 5 minute ride- 3 bus stops).
Useful websites to check your communication solutions:
https://www.warsaw-airport.com/rail.php
https://www.krakowairport.pl/en/passenger,c70/flight-information,c71/
www.pkp.com.pl train Schedule
http://ztm.kielce.pl/en/ Kielce bus schedule
https://jakdojade.pl/ finding connections
We would like to receive completed applications by Monday 30th March 2020. A detailed schedule for the week will be sent once attendees are confirmed.  

Further, if you have any enquiries about the event please contact us:
Departement of Staff Development and International Cooperation: erasmus@tu.kielce.pl
Anna Kasztelewicz Erasmus+ Institutional Coordinator: akasztelewicz@tu.kielce.pl